Lucas Franceschino
About me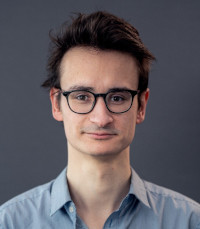 I'm a postdoc at Inria Paris in the Prosecco Team. Previously I was a Ph.D. student under the supervision of Jean-Pierre Talpin and David Pichardie at INRIA Rennes. My research focuses on formal verification, via both dependently typed languages (mainly F*) and abstract interpretation techniques.
After a double bachelor in mathematics and computer science in France, I graduated with the master degree "Mathematical Foundation of Computer Science" at Radboud University in the Netherlands. You can find my resume here.
I like functional programming a lot: I'm a happy user of Haskell, PureScript and OCaml, occasional Coq and Idris user, and for a few years now, an F* enthusiast! I'm also a NixOS and an Emacs user.
Publications
Verified Programming at the Intersection of Dependent Types and Static Analysis
content
Ph.D. Thesis, 2021. PDF document, slides and defense.
Verified Functional Programming of an Abstract Interpreter
authors
Lucas Franceschino
David Pichardie
Jean-Pierre Talpin
LIO
*

: Low-Level Information Flow Control with F

*
authors
Jean-Joseph Marty†
Lucas Franceschino†
Jean-Pierre Talpin
Niki Vazou
Abstract interpretation as a Dijkstra monad transformer for verified programming
authors
Lucas Franceschino
David Pichardie
Jean-Pierre Talpin
Teaching
Introduction to Java
Functional programming in Scala
Software engineering in Scala
Imperative programming in Java
Contact
Email
rf air ihcsecnarf sacul
Gpg key
Side projects
Here are some side projects of mine, more on my GitHub.
A transpiler from F* code to JavaScript, written as an F* meta-program, that can run during F* typechecking phase.
A set of F* libraries and meta programs.
A tiny parser combinator library for F*.
A toy static analyser written in F*.
An HTTP server written as an F* meta-program, with a Elm like engine. I wrote a todo list application example in F*, that extracts as a web application.
A nix Flake for building F*, that makes it easy to deal with multiple different F* versions, with custom patches, local sources, etc.